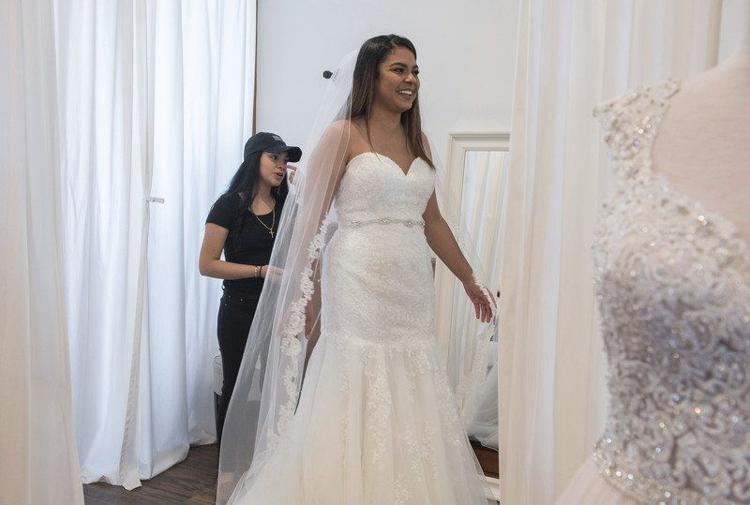 ANDOVER — Seventeen brides found their perfect dresses and took them home free of charge after attending Operation Wedding Gown, an annual event put on by Brides Across America.
The 11th annual event, held last Friday at the Brides Across America headquarters at 342 North Main St., allowed future brides who are in the military or first-responders, or engaged to someone who is, to choose from more than 3,000 dresses at the store in anticipation of revealing them on their wedding day. 
"It's wonderful," said Terry Brumley, who serves on the board of directors. "It's just seeing them, and they can't believe they are going to walk out with a free dress. It's a way of saying thank you. It really is rewarding just to see their smiles, and everyone that participates in the event feels that way."
Operation Wedding Gown is designed to ease the financial stress of a wedding on those who have chosen to serve the country, or are marrying those who have. It is a way to honor the nation's heroes, said founder Heidi Janson in a press release.
Janson started Brides Across America in 2008. To date, the organization has gifted more than 24,000 dresses to brides nationwide — and hosted 22 weddings. It all began when she heard a solider who served in Afghanistan talk on the radio about how he felt forgotten. She decided she wanted to help and did so in the best way she knew how.
"She knew bridal, she grew up in bridal," Brumley said.
Nationwide events like the one held Friday are put on twice a year and are appointment-based. Brumley said another event is being held July 19 for the overflow appointments that could not be fit last Friday.
For some brides that enter the store in search of their dream gowns, the day is about much more than picking out a dress and crossing that off their checklist of wedding to-dos. It shows them the immense support from people — even strangers — they did not know they had.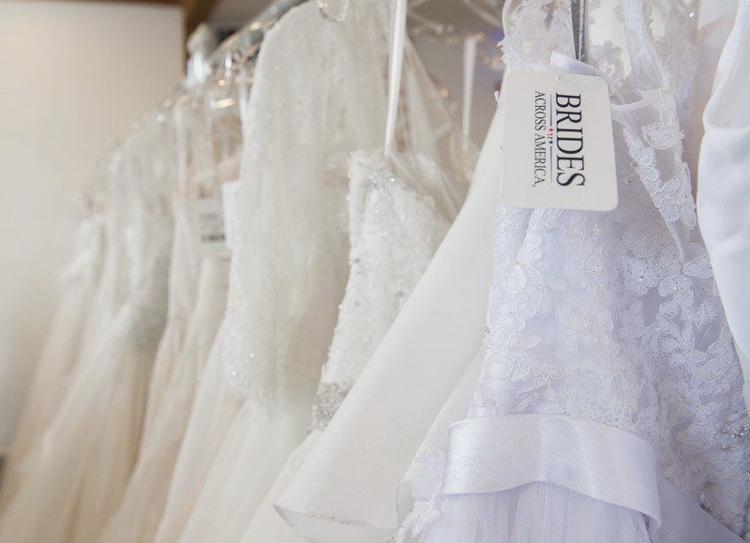 Brumley recalled one bride that came in from Hanscom Air Force Base. She was alone while picking out her dress because she had no family in the nearby area.
"We told her 'We will be your family,'" Brumley said. "She was alone and she was just so happy."
The woman was in the service herself and had to put her wedding on hold due to her deployment.
Brumley said she found a new dress and was able to pick a new date for her memorable day.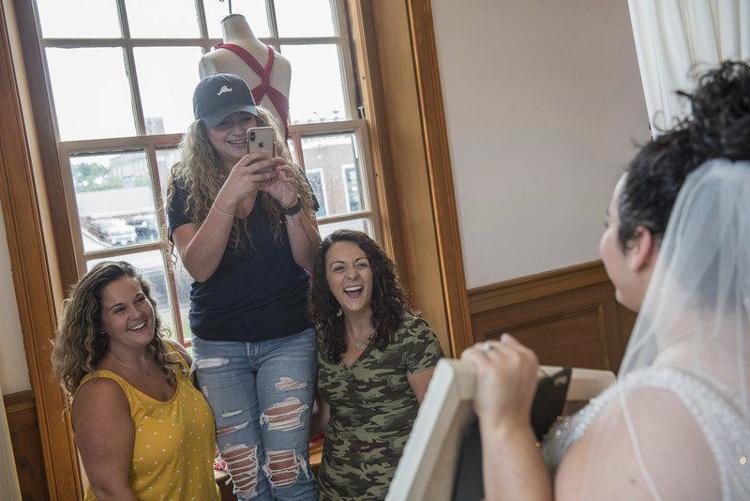 Two sisters from New Hampshire, both in the Air Force and marrying people also in the military, were among the 17 to pick out their dresses Friday.
"We try to make it very special," said Brumley. "If we didn't take appointments we could probably see more brides, but we don't want it to be a stampede. We want them to feel very special, because they deserve it."